I recently picked up
Bill Veeck Baseball's Greatest Maverick
at my local library and thoroughly enjoyed it. If you are a fan of baseball history, particularly through the middle part of the 20th Century, this is a must read.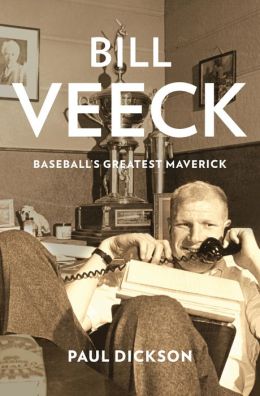 I will start with a personal disclaimer. Prior to reading this book my knowledge of Veeck's contributions to the game and his life in general were limited to him sending a little man to the plate to pinch hit and disco demolition night. I also knew he was elected to the Baseball Hall of Fame. That was about it. After reading about his life and his contributions to civil rights and baseball I am disappointed in myself for not knowing more prior to reading this book.
I don't want to ruin the book for all those who plan on reading it so I won't go into all the details I learned but here are a few of the highlights:
Veeck was a volunteer war hero and injured his leg in the war. Eventually after numerous surgeries he has his leg amputated, first below the knee then above it. He used a prosthetic leg but was still very active and considered an inspiration for physically disabled people.
He was a 4 time owner of MLB teams, the Cleveland Indians, St. Louis Browns and the Chicago White Sox twice. He made several bids to buy other teams as well.
He played a huge part in integrating baseball. He was the owner of Cleveland in 1947 when he brought Larry Doby onto the Indians as the 2nd black player after Jackie Robinson. He did so much more than that including signing Satchell Paige for several different teams, getting hotels to change their policies so entire teams could stay together and setting up exhibition games pre-integration between Negro League teams and teams with white players. There is an appendix in the book that lays out a strong case that Veeck tried to purchase the Philadelphia Phillies in the early 1940s and field an all black team that would be part of MLB and play against white teams. His thought based on the exhibition games were that whites did not object to playing against black players, just having them as teammates. Veeck's dedication to equal rights went far beyond baseball, he was a true believe in equal rights for everyone and I admire him immensely for that.
As I mentioned above, this was a very enjoyable read and I would strongly recommend it to any baseball fan. It provides great insight into how the game used to be, how it has changed and highlights a man who had a major part in many of the transformations. I plan on seeking out his 1962 autobiography as well now, I am sure it will be an interesting read. If you have a chance to pick this one up, let me know what you think.