Early today we heard the news that former Oriole Manager Earl Weaver passed away on an Orioles themed cruise ship. Weaver was a legend, winning 1480 games in his career, all with the Orioles, including 4 pennants and 1 World Series. He is perhaps best known for his antics when arguing with umpires and was thrown out of 92 games during his career. His number was retired by the Orioles in 1982, he was elected to the Baseball HOF in 1996 and last year was honored with a statue at Camden Yards. I vividly recall watching Earl manager as I grew up and was fond of his style of leading his team. I am honored to have an autographed card of his in my HOF Baseball collection.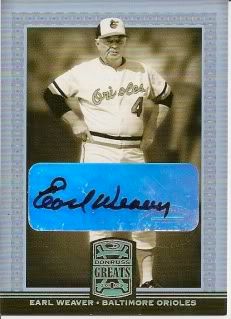 Just a few minutes ago, after an afternoon of playing with my kids, I heard the news that Stan Musial also passed away today. I believe he was the oldest living HOF player prior to his passing. Stan the Man played his entire career with the Cardinals and was one of the greatest hitters of all time. In addition to his hitting prowess, Mr. Musial was known as a respected gentleman. I have owned a copy of his biography for a little while now and haven't gotten around to reading it. I am looking forward to diving into it soon and will be sure to share more about his amazing career and life in a future post. One of my best pulls of my life was this card which will remain one of my prized pieces in my HOF collection. Stan was elected to the HOF in 1969 and has also been honored with a statue in front of Busch Stadium in St. Louis.
The baseball world lost 2 gentlemen and two greats of the game today. RIP Stan the Man and The Earl of Baltimore.