It is only 4 games into the season but so far there have been some similarities between the two years, I can only hope that continues through the end of October. I wouldn't mind the season ending with something like this again:
I picked up this card on Sportlots, I am curious to see how many different versions of this card I can acquire this year.
These cards came from the same seller, gotta love combined shipping.
The Giants so far have pitched tremendously, the starters have not given up an earned run so far in 4 games. Lincecum unfortunately struggled which is reminiscent of last year but these two guys looked spectacular:
I like the home plate cut out for the relic piece, the rest of the design is just okay. I guess they do remind you of the 1964 design which is the point.
The hitting has been just good enough to win some games. The team has hit homers in only 1 game with Panda connecting on a line shot and this guy going opposite field:
Scored this on the cheap on eBay with free shipping and it came in a PWE and got a major crease. At least the seller gave me a quick refund and let me keep the card.
The rest of the runs have been scratched across with some singles, walks, fielders choices and errors.
I am not going to complain at all about 2013 so far, as a matter of fact I am hugely impressed that this guy was able to keep up his performance over the second half and the playoffs: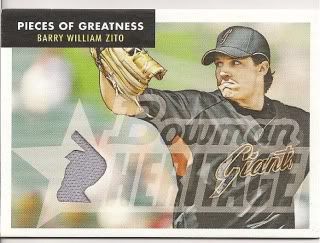 I have had this card for quite a while, maybe he will earn some more cards in 2013 and 2014 releases if he can keep this up.
If you haven't noticed I have added a new little feature to the blog. I have decided to name my player of the game for all 162 games (plus the playoffs). Whether the Giants win or lose, I figure what the heck I should go ahead and recognize the deserving player of the game. Just a fun way for me to stay engaged in every game and share my thoughts with anyone who stumbles across this blog.