One of the downsides to living in Southern California and being a Giants fan is the lack of TV coverage for my favorite team. Typically I follow them by quick internet checks to see updated scores or watching the ticker at the bottom of the TV. This year I decided to purchase the MLB.com app for my IPad that allows me to listen in live to the radio broadcasts. Yesterday I was able to tune in for the last 5 innings of the Giants/Pirates game and what a treat is was.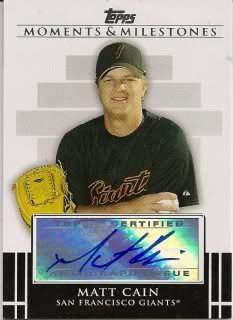 Matt Cain, my favorite current Giant, was masterful. He pitched a 1 hitter with no walks and 11 Ks. The only thing standing between Cain and perfection was a 2 out single by the pitcher. The was the Giant's home opener so the crowd was into it. Another great feature of the app is the ability to view highlights from the game. I was able to see many of Cain's strikeouts and he looked dominant. I also got to see replays of Buster Posey's introduction to the home crowd and long double, an emotional first pitch ceremony with video of Brian Stow and his son throwing out the first pitch and Aubrey Huff's first HR of the season, a one-hopper into McCovey Cove.
This auto card of Matt Cain was a recent pickup from Burbank Sportscards. They have a huge selection in Beckett's Marketplace and I placed and order of base cards to knock off my want list and got this for about $8 to put me into the free shipping price range.
Here are a couple other Cain cards I have in my collection. I have decided to work on building up my cards of his this season. With his new contract, he is here to stay and hopefully will be a lifelong Giant. His stats, outside of his W/L record are pretty nice and he could be a 20 game winner this year with decent run support. I am still not sure what to make of the Giants offense so far this year but they have scored 4 or more runs in every game so far - wonder if they had a 7 game streak of 4+ last year? Barry Zito is back on the mound after his shutout last week to see if he can help the Giants even their record after a horrible start in Phoenix.