My favorite player of all time is Hall of Famer Willie McCovey. I have amassed a collection of over 1100 different McCovey cards since I started collecting him in the late 1980s. I will show off one of my favorite cards every Monday. Stretch was one of the most feared hitters of all time and I am excited to show off my collection.
For my second installment of McCovey Monday I will share a relic card from back when relic cards actually meant something. Check out this beauty. It commemorates McCovey's 500th home run hit against the Atlanta Braves in Fulton County Stadium off Jamie Easterly. This homer made McCovey the 12th player to break the 500 HR barrier. McCovey ended his career with 521 home runs which tied Ted Williams.
This relic card is from 2003 Timeless Treasures and has a piece of baseball on the front. Based on the Giants uniform, it is possible this picture is actually the follow through of the swing that landed McCovey his 500th home run as these were the orange beauties worn during the late 70s.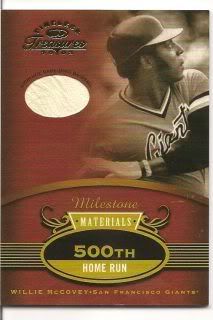 The back of the card gets me excited. There is a photo of the actual ball from Donruss prior to cutting it up for the card. It is serial numbered out of 24, a very low print run (you would think the could have gotten more cards out of a baseball). The card back as a Certificate of Authenticity that states, in part "was cut from an Authentic Baseball use in an official Major League Baseball game on June 30, 1978 featuring the Braves vs. the Giants." The ball was actually in the game the day McCovey hit his historic home run. Don't see info like that on the back of cards today, 2012 Tribute states "The relic contained in this card is not from any specific game even or season."
Hope you enjoy!