I have been reading quite a bit lately but have mostly been focused on the fiction genre. I used to buy tons of books but have narrowed my scope to baseball books and a few of my favorite fiction authors. To get my fix with a variety of different books, I visit our local library fairly frequently. It is a beautiful building and has a huge selection of books. I always peruse the new release section and a couple weeks back this new book caught my eye: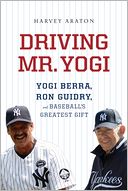 Driving Mr. Yogi
, by Harvey Araton, caught my eye. Regular readers of this blog know that I am by no means a Yankees fan but I am a huge fan of baseball history, especially those who came before my time. I have read a few books either about Yogi Berra or that included him but this seems to be a fresh angle. a story about Yogi's relationship with Ron Guidry a former Yankees star left-hander. Before I share a little about the story, I thought I would share a couple of nice Yogi cards that I have in my collection, this is a card blog after all.
I bought the Yogi auto in a 3 card lot years ago on eBay with cards from Phil Neikro and Duke Snider as well. The GU was a very nice pack pull, I am struggling to remember the product but was very happy to pull it.
Now on to a little about the book. It was a fairly quick read, only 210 pages long. It has a fairly narrow focus on the relationship between Guidry and Berra with some George Steinbrenner mixed in. Many baseball books about players spend a lot of time delving in the childhood and background of the subjects and while this book had a little of that, it wasn't over the top. A majority of the book is spent describing the interactions of the two main characters, first when Guidry was pitching for the Yankees in the late 70s and into the 80s then after Yogi reconciled with Steinbrenner and became a part of the Yankees once again.
The most pleasurable parts of the book are the stories and interaction over the past decade plus during Spring Training. Guidry has spent time as the pitching coach and as a special instructor while Berra attends annually to help out the younger players and relive his youth as a ballplayer. Guidry and Berra find joy in pranking each other but there are also heartfelt moments between the two.
The best way to describe their relationship is that it is a sweet and loving relationship. It seems a little odd to me to describe a relationship that takes part mostly on the diamond, in the dugout and in the clubhouse but it is the best way to describe it. Often times when you hear stories of two people coming together from different generations it is described as a father/son relationship. This was different. Guidry is close to his father and wasn't in the market for a daddy replacement, these two men just bonded out of mutual respect and admiration for each other and have become good friends.
Each year Guidry picks up Berra at the airport to signal the start of Spring Training. The two spend most evenings together going out to dinner and Guidry even makes his Cajun frog legs for Berra and convinces him to try them. It became an annual tradition. Guidry, especially as Berra has aged, spends most of the spring looking out for his buddy's well being up to the point he drops him off at the airport at the end of spring.
In addition to highlight this relationship, there is time in the book dedicated to explaining the troubles both had with George Steinbrenner and how they worked through and overcame the troubles to respect the man called the Boss. I actually enjoyed this part as well, I knew there had been a feud between George and Yogi but got a lot of insight into the details and how everything went down.
This book is touching and a decent read. It is the right length, any attempt to lengthen it out to 300 pages would have ruined it for me. I wouldn't highly recommended it but for a quick read to learn more about one of the games greats and one of the top pitchers of the late 70s and early 80s you could do a lot worse. I still have dozens of unread baseball books lining my shelves, time to pull another one down and get back in the baseball book groove.