I am finally getting around to the post congratulating my team for their sweep of the Tigers in this year's World Series. It was a very exciting time in the Arpsmith household. The 2010 was particularly exciting for me as it was the first Giants title in my lifetime (I never thought I would see one after failing in the Bonds era) but this year it seemed my boys enjoyed it more. It was great to see the excitement, my oldest son is 8 so I think being older and following the season and playoffs more closely got him very engaged and my 5 year old was probably reacting to our excitement.
For those of you not as in tuned to Giants history, the last World Series title for the Giants was won in 1954 when this guy was just in his 2nd full season (he debuted in 1951, missed a big portion of 1952 and all of 1953 in military service):
I picked up this card a couple months back on Sportlots and am finally getting a chance to showcase it. It is off center a bit but in otherwise pretty nice condition. I am a fan of the 1962 release and really like the design of these All Star cards and the picture used on this Mays card.
I thought the Giants season was pretty much over 2 games into their playoffs when they were down 0-2 to the Cincinnati Reds. They made an amazing comeback sparked by some great pitching and timely hitting. The play of the game that turned around the series came when 7-time Gold Glove winner Scott Rolen bobbled a ball with two outs. This card of Rolen is for trade if anyone is interested:
The Giants bullpen was very strong despite missing All Star Closer Brian Wilson for a majority of the year. Here is a sweet Wilson card I picked up on eBay a little while back:
Next up after winning 3 straight against the Reds was the team on the uniform Rolen is wearing, the St. Louis Cardinals. After winning the first ever wild card game and based on last years World Series run, it appeared the Cards were a team of destiny. This was the feeling in my house particularly when they jumped out to a 3-1 lead in the NLCS. Somehow the Giants came roaring back to take 3 straight with the Cards only scoring 1 run in the final 3 games combined. For the second straight series the final game was started by my favorite Giant, Matt Cain.
Picked up this beauty of a card at my LCS for a pretty reasonable price. Until uploading this card I didn't notice that the A's second basemen on this lineup was none other than NLCS MVP Marco Scutaro!
The Cardinals are a tough team and had a great season, my hats go off to their organization. After losing Pujols to make it that far is commendable and shows that they will continue to challenge for years to come. Here is a nice Jumbo Jersey card of the Cardinals team leader and All-Star Catcher Yadier Molia that is for trade:
The Giants won 6 straight elimination games and with a strong Tigers team fresh off a sweep of the Yankees. I honestly held out little hope for a series victory and probably would have been content (but still disappointed) with a strong showing.
Night Owl's prediction
of a Giants victory game me a little hope and inspiration. The Tigers' rotation was set up to allow this guy to start Game 1 and possibly as many as 3 of the 7 games.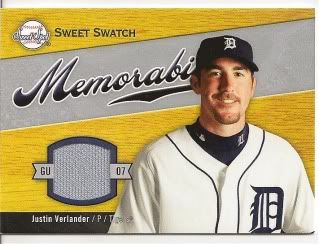 Buy the way, this card if for trade if you are interested.
But my team did the unthinkable, they not only won the World Series, they dominated Verlander and swept the series in 4 games. The MVP of the series based significantly off his 3 HR (2 off Verlander) game in Game 1 was Mr. Kung Fu Panda himself, Pablo Sandoval.
I have been waiting a little while to show off this beauty and I guess a celebration of something only done by Pujols, Reggie and the Babe is a pretty appropriate event. I love the look of these Gold Rush cards and only wish the auto was on card. I picked it up right before the playoffs began and thought I paid a little too much but I have to figure it was at a much better price than I might see now.
There was a ton of joy in the Arpsmith household and it still carries over right now. My sons have worn Giants shirts to school multiple times this week and I still need to get online and buy some new Championship swag. I am hoping for some awesome 2013 card featuring my team to add some excitement to the collecting season.
With the baseball season past us, I would guess some of the blog activity might die down so let's keep it alive with some trades and cardboard fun. A pretty good first season to be a blogger!