For the second week in a row the results and new contest are coming out on Thursday instead of Wednesday. If I don't get on the ball, I may have to change the name of the contest. For this week, I asked when you started collecting and what your favorite set of all time was. I really enjoyed getting to read everyone's responses and I thought I would share mine.
The first year I started collecting was 1979: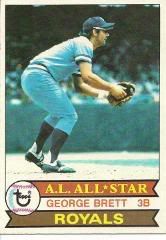 Not the most exciting set but I do have a soft spot for the All Star cards with the banner across the bottom.
My favorite set is challenging as there are so many I like - 1963, 1965, 1972, 1975, 1983 and I could do on but for nostalgic reasons I have to say my favorite set is 1959 Topps.
When I was about 8-9 years old on a visit to my grandparents house my dad pulled out a box that had all his old baseball cards and they were mostly from 1959 and 1960. Both sets were relatively close to complete and I was able to complete them at card shows throughout the 1980s. I enjoy the design, the colors and the memories it brings back of wandering around card shows with my buddy trying to track down affordable copies of those last few cards I needed.
So onto the contest, we had 18 entries this week:
And after 3 randoms, the winner is....
Steve D.!!! Steve, you win one of the prizes off my Weekly Contest Prize Page. If you would like to wait until the end of the weekend, there may be a few other things added to the page.
Now onto this week's contest.
With baseball season being over, a lot of the attention of sports fans shifts to other sports. We are in the sweet spot right now where the NFL, NBA, College Football, College Basketball and Hockey (when it is actually playing a season) are all in gear. Most of us have made our favorite baseball teams well known in the blogging community. This week's question is:
Outside of your favorite baseball team, what is your favorite team in another sport, col

lege or pro?
Feel free to share some insight into why, if there is a why as well.
Same thing goes for a winner, random 3 times and will close the contest out a day or so ahead of announcing the winner.