Stan Musial has always been a player that I felt I needed and wanted to know more about. I knew his numbers of course, in baseball we always remember the numbers, but I didn't know that much about "The Man". A couple years back my local Borders book stores was having a going out of business sale and I went in and picked up a few discount baseball books including
Stan Musial: An American Life by George Vecsey
with a goal of bridging that knowledge gap. It took a little while to get around to reading it but I am glad that I did.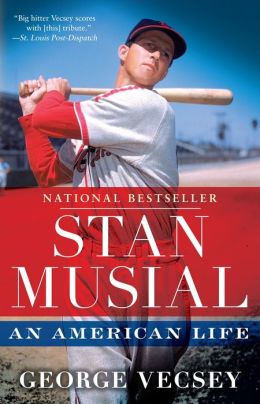 This book was published prior to Stan The Man's passing in May of 2011 but it does cover a majority of his life. It is a fairly long book, a little over 400 pages, it wasn't the quickest sports book read. It wasn't boring but there wasn't a lot of action or drama that kept the pages turning. I typically am reading 3 books at one time, 1 fiction, 1 non-fiction and one work related book and I believe I finished 3 or 4 other books in the time it took me to read this biography. Not to say the book was a bad read, it just wasn't a page turner.
The central theme of the book is the author's feeling that Musial didn't get the respect he earned. There we comparisons to Ted Williams and Joe DiMaggio and while his numbers stack up fairly well, the author feels Musial doesn't get the respect those two legends have earned. It is obvious Vecsey is a fan of Musial's, and he doesn't hide it, but that fandom makes you wonder if you are getting the entire story.
I do feel I know more about The Man now which is good, the book seems well researched with lots of details about his life. Surprisingly when I think back to the book, I am left wanting more details about the games he played in - more baseball focus - despite the fact baseball was interlaced throughout the book.
Some interesting items that stick with me after reading the book:
Stan grew up during the time of the Depression and his family was poor with his dad passing fairly early in his life in a Smog accident that claimed quite a few lives in Donora, Pennsylvania which also happens to be the birthplace of Ken Griffey Sr. and Jr.
Stan was a support of racial integration but was a quiet supporter. He didn't speak out in favor of integration but did some behind the scenes supporting of black players.
Musial had a lot of connections to famous people throughout his life and he definitely seems to be looked upon as a star, not just in baseball but in society, throughout and after his playing days. He seemed to be likable, if not somewhat quiet, and made the social rounds with some of the stars of the day.
This book was an okay read and if you really want to know more about Musial, this is probably worth the read - I am glad a read it. I wouldn't move it to the top of your baseball biography stack, however. The author's argument that Musial is not remembered as fondly historically compared to his contemporaries is somewhat proved by this somewhat boring book.