I am on a roll with regards to sports book reading. This is my second post of the year, although I did read most of the Stan Musial book in 2013 and I am almost finished with a 3rd.
A couple weeks back I was visiting my local library to get some quiet time to read a book I needed to get through for work and I decided to peruse the New Books section to see if something caught my eye. I saw
Fantasy Life by Matthew Berry
and decided to pick it up and take a quick look. I read the inside flap and thumbed through a couple pages and decided it was worth a read.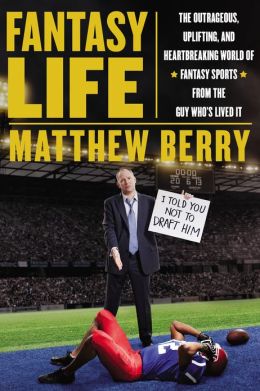 Don't get me wrong, this isn't an epic novel or the best sports book I have ever read but it was extremely enjoyable. It was a quick read and tons of fun. Berry is a fantasy guru and is also know as the Talented Mr. Roto and has been relied upon by countless fantasy players to set their lineups or consider trades. This book is part autobiographical but mostly shares stories submitted by fantasy sports fanatics.
I dabble in fantasy sports leagues. My first league ever was in college playing fantasy basketball. My #1 draft choice was Magic Johnson then he suddenly retired when he announced he was HIV positive. Not a great start. Fortunately for me, the guy who drafted John Stockton quit the league during the first week and the league voted for me to get the first pick off his roster as we dispersed his team. I think I ended up winning or coming in second (we played 2 years and I had one victory and 1 runner up).
For more than a decade I have been in a Baseball 12 team keeper league (we keep all our players year to year) with deep roster (40 players each with at least 3 minor leaguers). I have won a couple times in the past but have been rebuilding for the last couple years. I used to take it more seriously but still have some fun with it. I also entered a Football league at work this year and finished 3rd. I usually play Fantasy Football every couple of years but suspect this league will continue.
I am definitely not a fanatic but I have fun with it. The stories told in this book go far beyond anything I have ever done in the name of Fantasy and are highly entertaining. There are some crazy people out there from the league whose loser has to get a tattoo of the winners choice to those that have ruin relationships over their obsession. There are spouses who play together and bribes attempted (and accepted) for off the wall trades.
If you have every played in a fantasy sports league, I would recommend this read. It is entertaining, good for a few laughs and will probably make you feel better about whatever obsession you may have. I even read some passages to my wife with the lead in of "if you think my card collecting in crazy..."
If you decide to give it a read, let me know what you think.